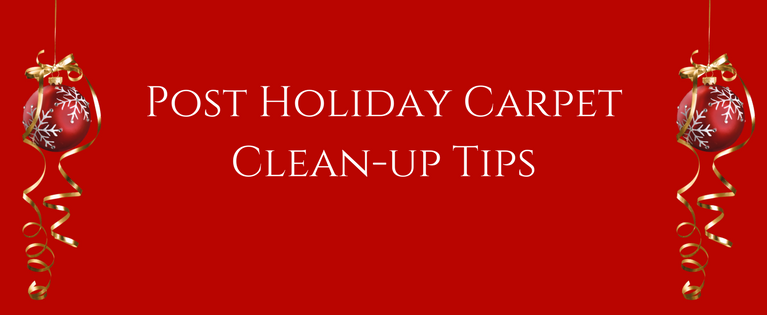 The Holiday season is chock full of visitors, family dinners and holiday parties. Inevitably, these otherwise joyous events mean some trouble for your carpets, flooring and upholstery.
Merry making and family events can lead to carpet and upholstery spills and lots of traffic on your flooring. Cranberry sauce, red wine, desert chocolates, gravy, coffee and hot chocolate are are loved by all, but may leave some ugly stains on your carpet.
When the holidays are over, its time to take stock of the cleanup for the post holiday mess.
Here are a could of tips to help manage the process along the way, so the post holiday season carpet cleanup is a bit less challenging.
Deal with Stains Right Away
When those inevitable spills happen, take a moment to deal with them right away. Dab it with a little vinegar and warm water, but don't wipe the stain, that will make it spread. Quick action will remove some of the unsightly nature of the spill. Once the holidays are over, have a professional carpet cleaning company come in and do the deep cleaning.
Check the Furniture Upholstery
Take a look to see if there are upholstery stains. With all the family and friend visitors over the holidays, upholstery can take a beating. Stains on your upholstery can be difficult to manage. You will want to consider a professional carpet cleaning company to manage these stains.
Guest Room Clean-up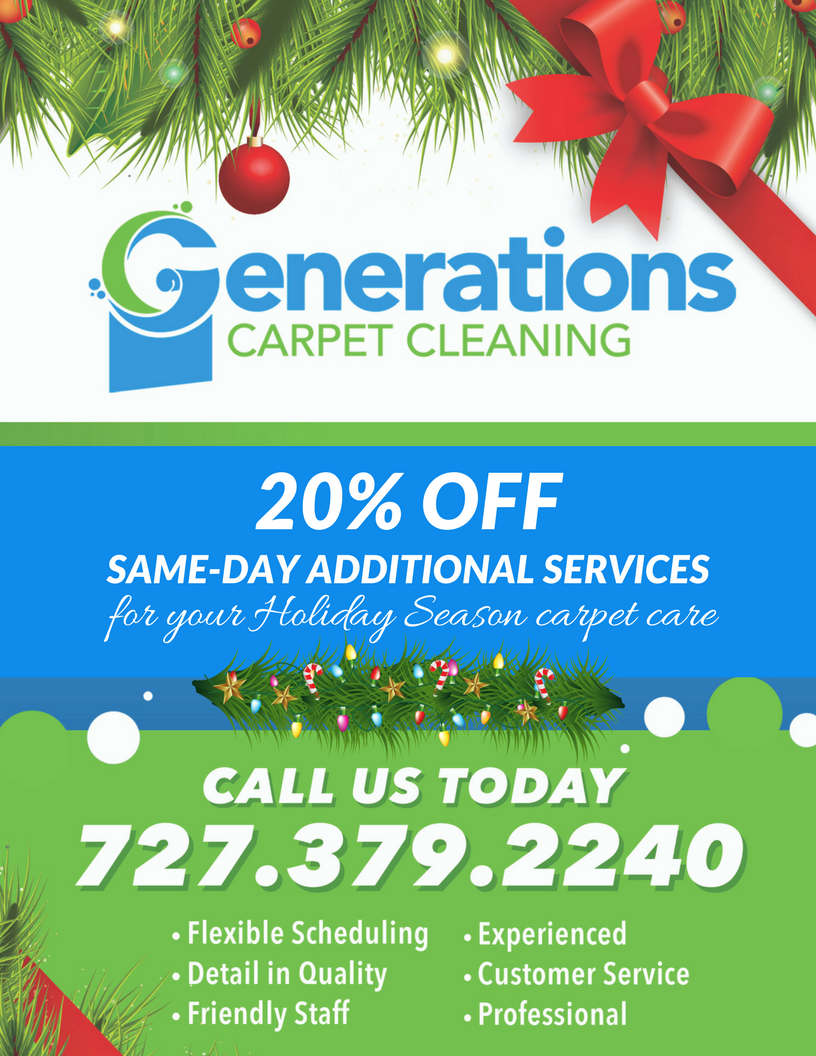 Its wonderful to have family stay with you over the holidays, but once they have returned to their homes, its time to deep clean the guest rooms, including changing the sheets, vacuuming the room, dusting and wiping down all surfaces. Bathrooms also need a thorough cleaning after your guests depart. Wipe down the surfaces in your bathrooms and look closing at the floors. With all that traffic, it may be time to have your tile and grout cleaned.
Great News About Post Holiday Season Carpet Clean-up!
At Generations Carpet Cleaning, we appreciate the need to do a thorough clean-up after the holiday season. With three generations of carpet cleaning experience, we've seen a lot of holiday seasons. And because we know this is a time when carpets, upholstery and tile all take a beating, we're offering a 20% discount on a second same day service for your post holiday carpet cleaning service.